We use the highest grade reflective mesh manufactured.

Tarps are edged with 2″ polypropylene webbing providing a soft, supple, rot, mold, and mildew resistant edging that is superior to any similar shade product on the market.
Heat cut holes and toothed grommets spaced every 12″ ensure a lifetime set with extra strength and convenience.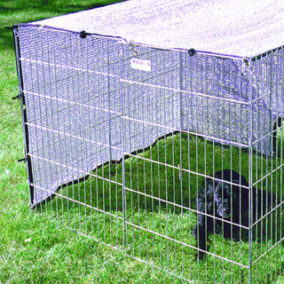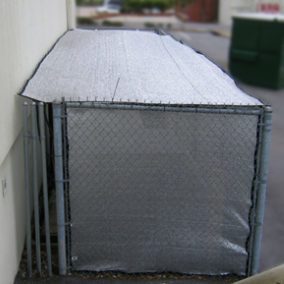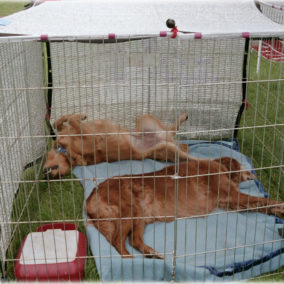 Silver Shade Fabric Information
This poly-aluminum knit fabric was developed and patented in Israel to mitigate the problematic affects caused by the sun and the temperature variations it creates.

Silver Shade acts like a mirror reflecting the sun's rays back into the atmosphere. Other shade materials absorb the sun's radiation and become hot, putting heat in an area where cooling is desired.

Because Silver Shade does not absorb heat it is able to do a superior job of cooling wherever ventilated shade is desired.

The open weave fabric allows fresh air circulation, provides a canopy that does not fill with water and facilitates an upwards escape for heat and moisture.

It was developed for outdoor use, has been used by the military for years, is UV ray protected, light weight, yet very durable. The fabric does not run, tear, or unravel.

It's unique features have created an unlimited array of uses – as shades for patio, RV, gazebo, sandbox, dog kennel runs, outdoor tents, equipment and vehicle covers, as horse sheets and dog jackets, sky light and window shades, heat reduction for vans and trailers, etc., etc.

It is the coolest ventilated shade made and cools everything under the sun! 
Heat Reduction – up to 20% when area is fully shaded

70% Shade/Reflection of sun's rays

High Tensile Strength – Durability

Does not fray, run, tear or unravel

Lightweight, compact, easy to handle

Energy cost saving on cooling up to 50%

Increased illumination underneath

UV Stabilized / anti-oxidation coating

Created for outdoor use / rot and mildew resistant

Washes with a garden hose